All
Case-making Caddisflies
Free-living Caddisflies
Net-spinning Caddisflies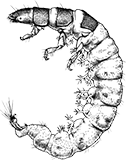 Trichoptera
| Caddisflies
tricho 'hair' + ptera 'wings' (Greek)
Caddisfly larvae (2 mm – 40 mm) inhabit a broad scope of freshwater habitats, including streams, rivers, lakes, and ponds, before undergoing complete metamorphosis (holometabolous metamorphosis) into winged adults. Many larvae are known for their ability to construct cases from sticky homespun silk and sand grains, pebbles, or plant matter, but other species may be free-living or form silken nets to capture particles from the water column. In addition to being important food sources in aquatic food webs, caddisfly species can be found across all feeding guilds for macroinvertebrates, including shredders, scrapers, and collector-filterers. Larvae can be distinguished by six well-developed legs on a worm-like cylindrical body and a pair of claw-bearing prolegs at the end of the abdomen.
LIFE HISTORY
Caddisflies constitute the 7th largest order of insects, with over 16,000 species globally and 1.887 species in North America. They're holometabolous, having egg, larval, pupal, and adult life stages. They spend most of their lives as larvae and can be found in almost all freshwater habitats. Collectively the species of the order are ecologically diverse. Different species are scrapers, detritivores, herbivores, filterers, and predators. Most larvae construct portable tube-like cases or fixed retreats, although some are free-living. The cases and retreats are made from rock or plant fragments glued together with silk from their mouth. Both cases and retreats are used for camouflage and physical protection as well as for improving efficiency of respiration by channeling oxygenated water across the undulating animal. Larvae can be identified by the usually-inconspicuous antennae and the pair of anal prolegs each bearing a single hook.

iNaturalist is an online social network and crowdsourced species identification platform
+ Expanded Character List
Larvae: Wings/wing pads absent. Eye spots present, but compound eyes absent. Antennae usually small, inconspicuous. Three pairs of segmented legs present on thorax. Pair of anal prolegs, each with single hook, located on last abdominal segment. Larvae can be free-living, in silken retreats attached to substrate, or in usually-portable tubes or cases made of sand, rocks, or plant material.