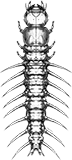 Megaloptera
| Alderflies, Dobsonflies, and Fishflies
megalo 'large' + ptera 'wings' (Greek)
Originating from the Ancient Greek for "large" and "winged," the Megaloptera are known for their sometimes large and formidable appearance. Their chewing mouthparts and elongated, slightly flattened bodies make them excellent underwater predators.  While seven to eight lateral filaments along the abdomen may give the appearance of many more than their six legs, there is only six true legs present. The order can be split into 2 key families: the Corydalidae (the dobsonflies and fishflies) and the Sialidae (the alderflies). Nicknamed "hellgrammites," the larvae of dobsonflies and fishflies more commonly inhabit lotic habitats in the fast-moving waters in river and streams, and they can be distinguished by seven to eight pairs of lateral filaments along the abdomen and two short, spiny prolegs at the end of the abdomen. Larvae of the generally smaller alderflies, meanwhile, are most commonly found in standing or slow-moving waters, exhibit seven pairs of lateral filaments, and have a single long single filament at the end of the abdomen.
LIFE HISTORY
The members of this group are holometabolous, meaning that they have egg, larval, pupal, and adult life stages, but only the larval life stage is aquatic. Larvae of some genera can be quite large and all are predators of smaller invertebrates. They can be found in still or flowing water habitats; however, at the genus and species levels their habitat preferences are more particular. Larvae can be readily identified by the presence of paired lateral filaments or gills along the sides of the abdomen. Eggs are laid on plants or other objects overhanging the water, from where the young larvae drop into the water after hatching from their eggs. Pupae are in chambers dug in the soil or under soft rotting shoreline logs or stumps or in dry streambeds. Adults are aerial, flying in the day or night; with many nocturnal and most active at dusk; they can be quite large but likely do not feed.

iNaturalist is an online social network and crowdsourced species identification platform
+ Expanded Character List
Larval wings/wing pads absent. Eye spots present, but compound eyes absent. Segmented legs present on thorax. Abdominal segment 9 with either one slender tail or pair of anal prolegs, each with two hooks. Seven or eight pairs of filaments or gills laterally on abdomen, with never more than one pair per segment.