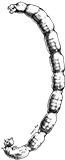 di 'two' + ptera 'wings' (Greek)
While many insects boast the word "fly" in their name, the Diptera represent the only "true flies." The soft-bodied, worm-like larvae comprise some of the greatest number of species among aquatic insects, a diversity that casts true flies in fundamental roles in the food webs of streams, rivers, lakes, ponds, and wetlands alike. Despite their abundance of species and incredible diversity, true fly larvae remain the only aquatic insects without fully developed legs in their larval stage. As holometabolous insects, they also lack visible wing pads on the thorax. Larvae may also exhibit a poorly developed head and/or prolegs, as well as fleshy or filamentous protrusions at the end of the abdomen.
LIFE HISTORY
The Diptera are holometabolous, meaning they have egg, larval, pupal, and adult life stages. For aquatic species, all life stages except the adult usually are aquatic. Greater than 51,000 species are known to be aquatic or semiaquatic; this is more than the number of aquatic species in all other insect orders combined. Larvae in this order are often maggot-like and never have segmented legs. Adults can be readily recognized by the absence of hind wings; they have front wings, but instead of hind wings they have club-like appendages (halteres) used for balance during flight. Adult flies are often thought of as pests because some bite, some vector diseases such as malaria, or swarm in high numbers. However, both larvae and adults are important links in aquatic and terrestrial food webs.

iNaturalist is an online social network and crowdsourced species identification platform
+ Expanded Character List
Wings and wing pads absent. Eye spots sometimes visible, but compound eyes absent. Segmented legs absent, but sometimes fleshy prolegs present. Sometimes with distinct head, often without head or with head drawn deeply into thorax. Body flattened, cylindrical, or maggot-like.