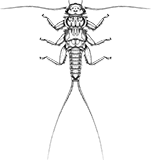 pleco 'folded' + ptera 'wings' (Greek)
Stonefly nymphs prefer cold, fast-flowing, and highly oxygenated lotic habitats in springs, streams, and rivers, where they often live under leaf packs and the stones that are their namesake. Most naiad species are herbivorous, often feeding on submerged leaves and benthic algae as shredders and scrapers, but other species are predator-engulfers of fellow macroinvertebrates.  Commonly confused with mayflies (Order Ephemeroptera), stoneflies can be distinguished by two tarsal claws and fingerlike or hair-like gills on the thorax and, unless they become lost or broken, exhibit two "tails" or cerci. Although gills may also be present on the head, bases of legs, and/or the abdomen, stoneflies never exhibit the plate-like abdominal gills or the single tarsal claw found in all mayflies.
LIFE HISTORY
Stoneflies include over 3,500 species globally. They're hemimetabolous, lacking a pupal stage. Eggs and larvae are aquatic, and most adults are terrestrial. Larvae are typically found in cold, clean streams, such that presence of larvae is indicative of good water quality. Larvae sometimes diapause (similar to hibernation), especially if living in an intermittent stream, where water levels may drop very low. There is a wide range of feeding strategies among the different species, but most start as collecting-gatherers and shift to shredding-detritivores or omnivorous-predators. Microhabitats where they live can be very specific as each genus is adapted to particular environmental conditions. Unlike mayfly larvae, stonefly larvae have two claws per foot, never have gills on the top of the abdomen, and never have more than two cerci (tails). Adults rarely fly far from the larval habitat.

iNaturalist is an online social network and crowdsourced species identification platform
+ Expanded Character List
Wings developing in wing pads. Mouthparts suitable for chewing. Gills digitiform and located near mouthparts, on neck, sides of thorax, or underside of base of abdomen, never on top or sides of abdomen. Two tarsal claws per leg. Only two tails (cerci).