All
Damselflies
Dragonflies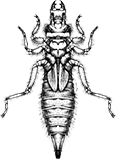 Odonata
| Dragonflies and Damselflies
odon 'teeth' (as in "flying teeth") (Greek)
Commonly found in standing waters (lentic systems) or slow-moving running waters (lotic systems), these fierce underwater predators remain one of the most fundamentally aquatic insect orders, with all known North American nymphs spending their young lives underwater. The Odonata can be divided into 2 suborders: the Anisoptera (the dragonflies) and the Zygoptera (the damselflies). Nymphs are distinguished by their large eyes, wing pads on the thorax, and an elbow-like "lower lip" or labium, which can project from the head to strike/seize prey or tuck neatly under the head when not in use. Dragonflies are known for their stout bodies, heads narrower than the thorax and abdomen, and three short, wedge-shaped structures at the end of the abdomen. Damselflies, meanwhile, exhibit slender bodies, heads wider than the thorax and abdomen, and three long, leaf-like caudal lamellae at the end of the abdomen that can facilitate gas exchange.
LIFE HISTORY
The order Odonata is composed of two groups, the true dragonflies (Anisoptera) and the damselflies (Zygoptera). American damselfly nymphs have leaf- or feather-like gills on the posterior end of the abdomen; dragonfly nymphs have 5 tightly grouped spikes instead. These are hemimetabolous insects, and so do not have a pupal stage. Adults and nymphs are engulfing predators, feeding mainly on small invertebrates. Larvae capture their prey by either stealth or by ambush, snatching them with their labial mask, an arm-like extremity that extends rapidly from below the face and brings the food to their chewing mandibles. As adults, dragonflies are often thicker bodied than damselflies and hold their wings to the sides when at rest. Damselflies have more slender abdomens and their eyes appear more widely separated than eyes of true dragonflies; when at rest, damselflies usually hold their wings together vertically above their bodies. Adults are strong flyers, often found near the water, where they capture flying insects in the air. Eggs are laid in plant tissues or other substrates above or below the water surface.

iNaturalist is an online social network and crowdsourced species identification platform
+ Expanded Character List
Nymph with mask-like labium below chewing mouthparts. Wings developing in wing pads. Segmented legs present, each with two claws.