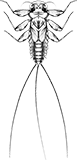 ephemeros 'short lived' + ptera 'wings' (Greek)
With "Ephemeroptera" derived from the Greek word for "lasting a day," this order of insects earns its name from a notoriously short-lived adult lifespan, which can last less than 24 hours. However, young mayfly nymphs may feed and grow in streams, rivers, lakes, and ponds for up to two years. As important links in the freshwater food web, young mayflies are often voracious herbivores, detritivores, or even carnivores, in addition to being preferred food sources for many freshwater carnivores. They can be distinguished by two to three tails (two cerci always sometimes accompanied by one median caudal filament) at the end of the abdomen, one tarsal claw on each leg, and feathery or plate-like abdominal gills.
LIFE HISTORY
Mayflies, with over 3,400 species, make up one of the oldest orders of insects, with the first fossils dating to about 275 million years ago. They are hemimetabolous, without a pupal stage; however, they are unique in that they have a subimago stage, an extra life stage between the larva and the adult in which the insect has wings, but is still sexually immature. Most of their life is spent as aquatic larvae and most species spend only a few hours to no more than 3 days as flying adults. Different families and genera can be found in a variety of flowing-water and some still-water habitats. They can be burrowers in loose sediments, flat-bodied sprawlers on rocks, or fish-like and very streamlined in shape, making good swimmers. Larvae can be easily identified by having only a single claw on each foot, gills on the top or sides of the abdomen, and the presence of two or three slender tails.

iNaturalist is an online social network and crowdsourced species identification platform
+ Expanded Character List
Wings developing in wing pads. Mouthparts suitable for chewing. Gills present on tops and sides of abdomen. Segmented legs present. One tarsal claw per leg. Usually with 3 tails (sometimes 2).